Come celebrate a Potter Christmas with us at Universal Orlando Resort
We have been at Universal Studios on two different vacations over the last two weeks and have a great podcast for you.  First, we spent some time at Universal's Volcano Bay, their 3rd theme park.  This water park is stunning and has some key differences over the traditional water park that you  may be use to.  The Tapu Tapu wrist band is a cool, key time saver and everyone gets one included with your park admission.  Tapu Tapu allows will hold your place in line.  Yep, you heard that right.  You can go enjoy the beach, lazy river, shop, or get a drink while Tapu Tapu waits for you.  When it's your time to ride Tapu Tapu lets you know and off you go.
In addition to Volcano Bay being beautiful, you don't have to carry a massive tube to the top of a mountain to ride.  All rides already have the tubes and rafts at the top.  Now you will get some FitBit steps in so be sure to sign up for a FitBit challenge with your friends on your Volcano Bay park day.
Universal Orlando Resort for the Holidays
When you think of Christmas, I have to admit I never thought of Universal Orlando.  But you need to!  It's amazing!  You need to listen to our full Mouse Chat podcast to hear all teh cool things happening at Universal Orlando Resort, but to summarize here: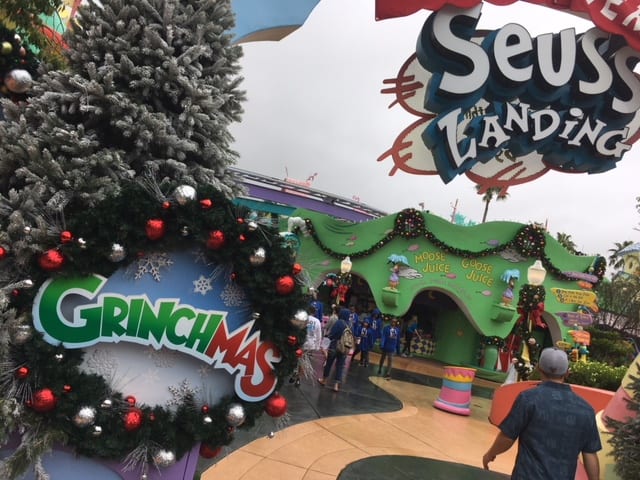 – Dr Seuss has an entire land at Islands of Adventure all decked out with Christmas cheer.
– Harry Potter – This is so awesome.  Both parks at Universal are decked out for Christmas and Diagon Alley has perfectly tasteful decorations as well as Hogsmeade and Christmas at Hogwarts Castle.  The show at Hogwarts Castle happens every 20 minutes at night and it's a must do!
Please listen to our Universal Orlando Resort Podcast here:

---
Free at Walt Disney World
Get our list of things you can do for free at Walt Disney World.
We have a long list of Disney World freebees. These are tips and free extras that we have gathered from our years of Disney World experience. And the list also Free and we will rush it to your in box! Please click the button below to get your list of Free things to get and do at Walt Disney World.
---
Join us on Facebook, Twitter, YouTube, and Instagram.
Join Mouse Chat Facebook
Mouse Chat Instagram
Mouse Chat Twitter
Watch Mouse Chat YouTube
We would love to hear from you. Is there something you want to know about Mouse Chat? Please leave a comment.
Please join us by listening to our show at MouseChat.net or by downloading and subscribing to Mouse Chat on
iTunes. If you subscribe to our Disney Podcast on iTunes you can schedule it to update your player.