Disney Starts Construction on Star Wars Land Early
Star Wars Land Construction starting in 2016
Star Wars Land was announced at the Disney D23 convention in August in Anaheim California and at the time it appeared that construction would start in late 2017.  But Thursday, Speaking about the planned expansion, Staggs said "This will be I think perhaps the most immersive land we've ever built. We want people to feel like they've stepped into the world of Star Wars and so that's really sparked our imaginations and it's got people fired up."
He announced that construction of new lands based on Star Wars would start next year in both California and Florida, but still would not say when the attractions might actually open to the public.
He called the initiatives the biggest "single-theme" improvements at the parks in their history, reiterating that guests will be able to visit the bizarre cantina featured in the original film and fly Han Solo's Millennium Falcon.
Of the upcoming Star Wars movies, he promised they'd appeal to fans and newcomers, alike, then added: "I think it will be something China will embrace in a big way."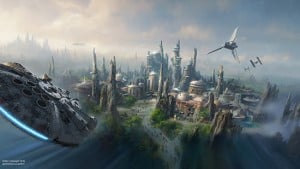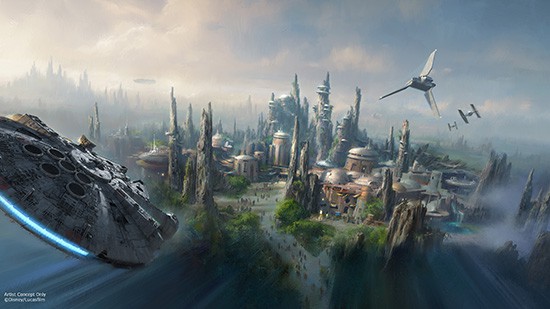 So what does this earlier Star Wars Land build tell us?
1. Starting Star Wars land a full year to two years possibly earlier than originally announced means that Disney really wants to catch the Star Wars Movie wave like Universal Studios did with its themed Harry Potter Lands.  Disney is releasing three new Star Wars Movies and the sooner they can have movie fans in the Disney Parks in those experiences the sooner they will start paying for themselves.  This is nice because not so long ago Ariel's Little Mermaid Ride opened at Disneyland and at the Magic Kingdom at Walt Disney World and remember how long ago that movie was in theaters?  So Disney seems to be trying build immersive experiences and attractions quicker when they know the movie franchise is successful.
2. Star Wars Land has been planned for years.  Even before Disney bought the Star Wars Franchise rumors had been going around.  So the plans are ready and construction can start ASAP.  So bumping up the star of the construction is a great idea for Disney.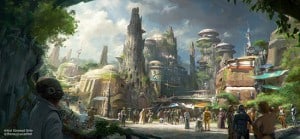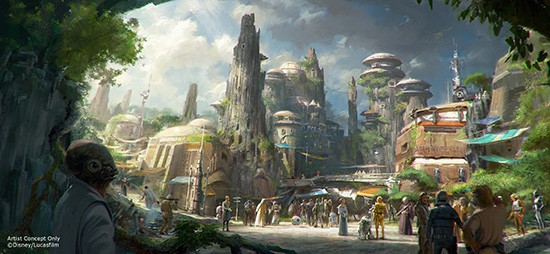 When will Star Wars Land Open?
If we look at other large Disney projects like Cars Land and Avatar, these projects can take up to five years.  I would expect to be walking into Star Wars Land in 2020.  You also have to take into consideration that Walt Disney World has Avatar Land Opening and they will want a good two years with no competing major attractions to recover a large amount of that cost.  They are not going to open Avatar land at Disney's Animal Kingdom to have all the crowds skip seeing that to head over to Star Wars Land instead.
This also means that 2015 will be the last year for Disney Hollywood Studios (DHS) Osborne Family Lights.  With the Star Wars Land construction coming in 2016, the back lot area at DHS where the amazing Christmas lights from the Osborne Family will be most likely torn down.  So if you have never seen the Osborne Christmas Lights at Disney World, get over there this November or December before they are gone.
__________
What do you think?  Are you excited about Star Wars Land at Disney?  Please post your comments below and share any Star Wars Land News you hear about.