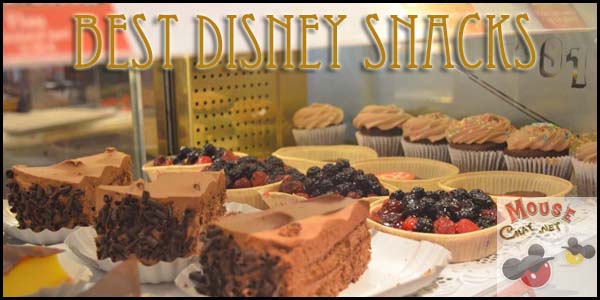 Top Walt Disney World Snacks
If you are on the Disney Dining Plan and want a healthy, over the top, or best value snack, we have them listed out for you on this Mouse Chat Disney Podcast.

We have broken our Walt Disney World snacks into three categories.  First we have our healthy Disney World snacks.  These Disney World snacks leave you filling satisfied, use one Disney snack credit, or you can pay cash if you are not on the Disney Dining Plan.
Then we cover our favorite Disney World snacks.  Some of these are full of sugar or chocolate goodness, but have you are on vacation.  We top off our Walt Disney World best snack show with Disney snacks that could really be a meal in itself.  These are what I would call the best value Disney World Snacks and if you are on the Disney Dining Plan you really get your moneys worth using a snack credit for these items at Disney World.
Please listen to our full Disney podcast for our list of Disney World snacks.  Also we would love to know what your favorite snacks are.  Please share below in the comments.
Please listen to the full Walt Disney World Best Snacks podcast here:

---
Free at Walt Disney World
Get our list of things you can do for free at Walt Disney World.
We have a long list of Disney World freebees. These are tips and free extras that we have gathered from our years of Disney World experience. And the list also Free and we will rush it to your in box! Please click the button below to get your list of Free things to get and do at Walt Disney World.
---
Join us on Facebook, Twitter, YouTube, and Instagram.
Join Mouse Chat Facebook
Mouse Chat Instagram
Mouse Chat Twitter
Watch Mouse Chat YouTube
We would love to hear from you. Is there something you want to know about Mouse Chat? Please leave a comment.
Please join us by listening to our show at MouseChat.net or by downloading and subscribing to Mouse Chat on
iTunes. If you subscribe to our Disney Podcast on iTunes you can schedule it to update your player.