Toy Story Land welcomes all toys
Toy Story Land at Disney Hollywood Studios is not just for the little ones.  The land at Walt Disney World is the latest fully immersive experience in Andy's Backyard.  Andy has setup his toys in the backyard and built a Slinky Dog Dash Coaster, Aline's Swirling Saucers, the beloved Toy Story Mania, and unique snacks and drinks at Andy's Lunch Box.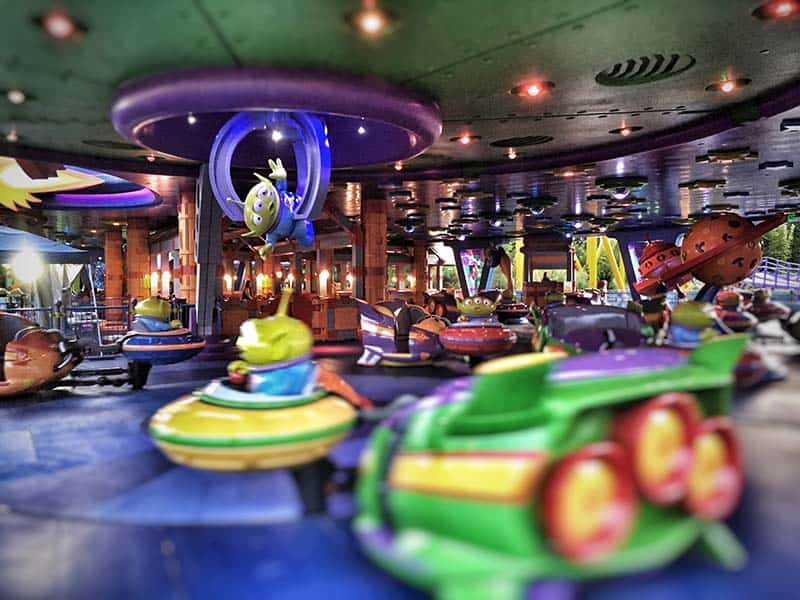 Toy Story Land Tip – Ride the attractions at night!  The entire Toy Story Land is a glow in Christmas lights and Alien Swirling Saucers is overlaid with a mosaic of disco lights.  Slinky Dog Dash is a totally different experience at night with the track lights and second launch arches screaming GO, GO, GO.
Lisa and I both rode Slinky Dog Dash and the coaster is much more than a first coaster.  I would say Slinky Dog Dash is a step up from the Magic Kingdoms Seven Dwarf's Mine Train.  With two launches and a big hill that let's you peak into Galaxy's Edge the coaster was a hit with us.
The attention to detail all around Toy Story Land is on par with everything Disney does.  You will see Andy's foot prints in the dirt as you walk around Andy's backyard.  Also Andy's Lunch Box is an old 1980's style metal lunch box, opened up to make a restaurant.  The chairs are made out of Babybel Cheeses and benches out of Popsicle sticks even with the purple stain still on the end of the sticks.
If you are looking for Toy Story Mani TIPS watch our Toy Story Mania video so you can get a high score on your next ride.
We have a full one hour Mouse Chat podcast covering everything at Disney's Toy Story Land.  Please listen to the Toy Story podcast here or on iTunes.
Please listen to our Disney Toy Story Land podcast here:

---
Join us on Facebook, Twitter, YouTube, and Instagram.
Join Mouse Chat Facebook
Mouse Chat Instagram
Mouse Chat Twitter
Watch Mouse Chat YouTube
We would love to hear from you. Is there something you want to know about Mouse Chat? Please leave a comment.
Please join us by listening to our show at MouseChat.net or by downloading and subscribing to Mouse Chat on
iTunes. If you subscribe to our Disney Podcast on iTunes you can schedule it to update your player.