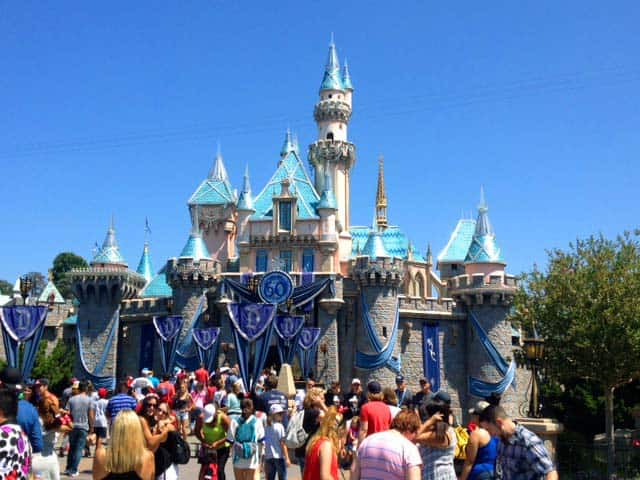 How Disneyland differs from Walt Disney World
We grew up with Walt Disney World as our main park.  So how does a trip to Disneyland compare?

 At Disneyland you can walk to everything!  You literally can walk from your Disney Grand California Hotel room and into the Disney CA Adventure Park.  The Disneyland hotels and parks are all located minutes away from each other.  The Disneyland park and California Adventure park entrances are directly across from each other.  If you want to watch all the night time shows you can walk from park to park, show to show.  Need a mid-day nap?  It's very easy to get to your Disneyland hotel and then back into the parks.
Rides at Disneyland  – When you go to Disneyland you get to experience the theme parks all over again the first time.  Some things are familiar and some things are brand new.  It's like seeing your favorite movie when they come out with a fantastic sequel.
Ride Overlays – At Disneyland there is more of a local crowd.  So Disneyland does some amazing holiday overlays on their rides for the holidays.  You have to see Nightmare before Christmas at the Haunted Mansion and also the Small World holiday overlay for Christmas.
Disney Characters – At Disneyland you might see the Disney characters roaming the streets.  It's a little more laid back and usually not long lines if a line at all for some characters.
Food at Disneyland is different.  There are more fresh and healthy options at Disneyland.  The quick service options also offer healthier things like sandwiches or salads in addition to the normal theme park fare.  The Disneyland resort hotels offer some wonderful dining options too.  We cover these on this weeks Mouse Chat podcast.
The Disneyland History – Disneyland is the park Walt Disney built and walked in.  He meet guests here and ad an apartment above the fire station.  The park is filled with history and the cast members are very proud.
New lands to explore – Disneyland has lands like Cars Land and New Orleans Square where the entire land is something you can not experience at Walt Disney World.
Unique Shows and Parades – Disneyland has World of Color which is a spectacular night time show and is worth a trip to Disney's California Adventure.  Also the Fantasmic show at Disneyland is so much better than the Fantasmic show at Walt Disney World.  Since this recording the original World of Color show has been announced to be coming back and the Paint the Night Disneyland Parade is scheduled to close on Sept 5., 2016.  Our guess is that Paint the Night will be coming to Walt Disney World, but we will announce more Paint the Night Parade news when it is released.
California Weather – The weather in CA can be much nicer than the weather at Walt Disney World, especially during the Summer.
Listen to Mouse Chat for the number ten reason 🙂
Listen to our full Mouse Chat show here Disneyland vs Walt Disney World.
Podcast: Play in new window | Download
Subscribe: Apple Podcasts | RSS
Mouse Chat Meet Up at EPCOT
 It's that time!!! Time for the Annual Mouse Chat Disney World Meet Up.
🙂
We will be meeting in EPCOT Saturday, Dec. 3 at 11 AM in France. Here are the details and free event tickets. Please sign up and let your friends know. Last Year someone won a car! Not at our Mouse Chat meet up but I heard someone won a car in some sweepstakes.
http://mousechatdisney2016.eventzilla.net
Follow us and meet other Mouse Chatters
Join us on Facebook, Twitter and Instagram.
Mouse Chat Facebook
Mouse Chat Instagram
Mouse Chat Twitter
We would love to hear from you. Is there something you want to know about Mouse Chat? Please leave a comment.
Get Free Mouse Chat Swag
We would love to send all Mouse Chatters some Mouse Chat swag but we only have so much to go around. Please post a comment, tip, review, or just join in the conversation below in the Comments section at the bottom of this podcast page. We will pick one comment a week and announce it on Mouse Chat and send you some cool Mouse Chat swag sure to impress your friends.
How to contact us at Mouse Chat:
You can post questions and comments to the show below in the show comments or on our Mouse Chat Facebook page.
Media and Press can also contact us at Comments@MouseChat.net
If you like our show, please let your friends know about us.
Please join us by listening to our show at MouseChat.net or by downloading and subscribing to Mouse Chat on
iTunes. If you subscribe to our Disney Podcast on iTunes you can schedule it to update your player so you will never miss a show.