Avoid this Disney World Restaurant
The Diamond Horseshoe restaurant opens its doors at Disney's Magic Kingdom

Back in the day the Diamond Horseshoe offered lively entertainment in a western style saloon.  Today the Diamond Horseshoe reopens its doors as a family style restaurant at the Magic Kingdom.  Unfortunately the new Diamond Horseshoe falls short.  We hate to give a bad review, but we have to be honest and want to make sure you spend your hard earned vacation dollars at one of many fantastic Disney World dining locations instead.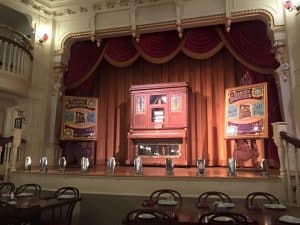 Let's start with dinner at Diamond Horseshoe.  The food, except for the corn bread, was across the board horrible.  As each family style serving came to the table it was one disappointment after another.  For us, each item tasted pretty bad and it's not surprising when you look at the photos of these dinner items that are served at the Diamond Horseshoe.
The Mac and Cheese dominated the table surrounded by wet, soft, cold corn on the cob.  Everyone in the party gave the corn and mac n cheese two thumbs down.
The meat platter looked unappetizing and the only meat item we liked was the turkey.  There is so much more Disney can and should do with the Diamond Horseshoe to bring it back to it's former glory.  If Disney offered good food and a unique lunch and dinner show, they could have a sold out, popular mini Hoop-Dee-Do like show for Magic Kingdom guests that would get rave reviews.  But instead the Diamond Horseshoe restaurant is a major disappointment.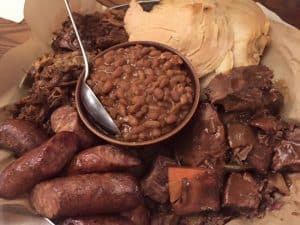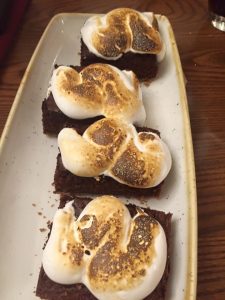 Dessert.  After eating hardly anything that was brought to the table, we were excited for dessert.  Nobody at our large group table at the Diamond Horseshoe ate more than one bite of the brownie dessert.  It was dry and unappetizing.
The worse part of the Diamond Horseshoe dinner experience is that all of this is going to cost you $35.00.  You can have a wonderful meal at Walt Disney World for $35 instead of this experience. So please listen to our other Disney World restaurant reviews and enjoy one of the other lovely lunches and dinners that the Magic Kingdom offers.
Have you eaten at the Diamond Horseshoe?  Did you love it or have a similar experience?   We would love your comments and review.  Please post your Diamond Horseshoe review below for others.
Listen to our full Mouse Chat show here for our Disney World restaurant reviews.
Podcast: Play in new window | Download
Subscribe: RSS
Follow us and meet other Mouse Chatters
Join us on Facebook, Twitter and Instagram.
Mouse Chat Facebook
Mouse Chat Instagram
Mouse Chat Twitter
We would love to hear from you. Is there something you want to know about Mouse Chat? Please leave a comment.
Get Free Mouse Chat Swag
We would love to send all Mouse Chatters some Mouse Chat swag but we only have so much to go around. Please post a comment, tip, review, or just join in the conversation below in the Comments section at the bottom of this podcast page. We will pick one comment a week and announce it on Mouse Chat and send you some cool Mouse Chat swag sure to impress your friends.
How to contact us at Mouse Chat:
You can post questions and comments to the show below in the show comments or on our Mouse Chat Facebook page.
Media and Press can also contact us at Comments@MouseChat.net
If you like our show, please let your friends know about us.
Please join us by listening to our show at MouseChat.net or by downloading and subscribing to Mouse Chat on
iTunes. If you subscribe to our Disney Podcast on iTunes you can schedule it to update your player so you will never miss a show.