Universal Orlando Resort – Best onsite hotels
We spend four days at Universal Orlando Resort and stayed at several of the Universal Loews resorts and toured all of them.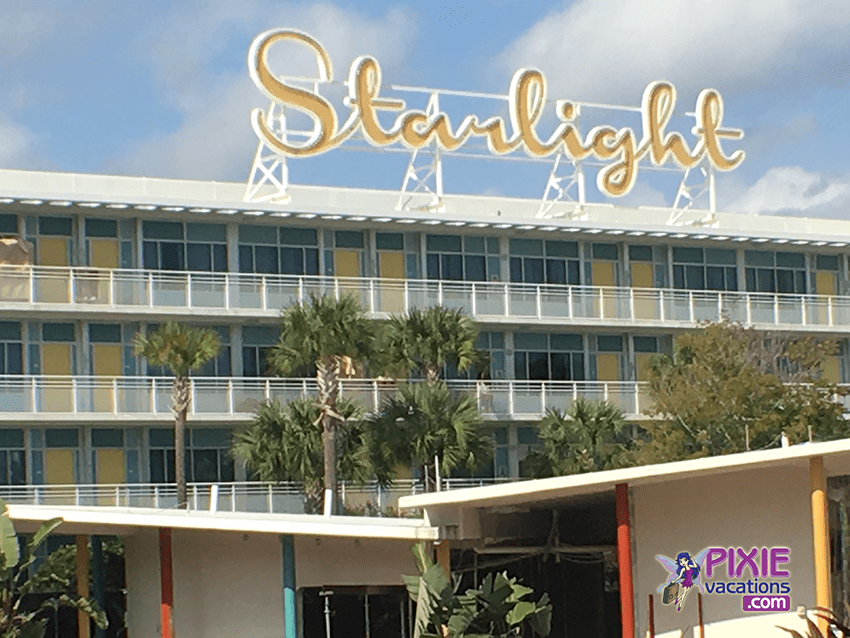 Cabana Bay Beach Resort
Universal Cabana Bay is themed after the retro 1950's and 60's.  If you are use to staying at a Disney Value Resort when you come to Orlando, this resort at Universal Orlando is going to take your breath away.  For the same price, or just a little bit more than a Disney World Value Resort, Cabana Bay at Universal Orlando offers so much more.  The resort has two pools and a lazy river.  Also Cabana Bay Beach Resort has a massive fitness center.  This is not a hotel room without the bed and two treadmills.  This fitness center is massive and is not like any resort gym you have experienced.  These rooms have indoor access for most rooms, so pool side rooms have outside access.  The rooms even have VO5.  Oh and by the way there is also a waterslide.  Now with the Lazy River you can bring your own tubes and they will fill them up, or you can get a Cabana Bay logo tube and they make for great souvenirs.
Cabana Bay Beach Resort also has a lounge with a retro feel, a full bowling alley, a 1950's decor Starbucks, a very well appointed food court and very nice hotel rooms.  If you have not stayed at Cabana Bay Beach Resort and are looking for an entry level priced resort on Universal Studios property, this resort is amazing.  It's hard to beat the value of Cabana Bay, but we have several other Universal Orlando Resorts to cover.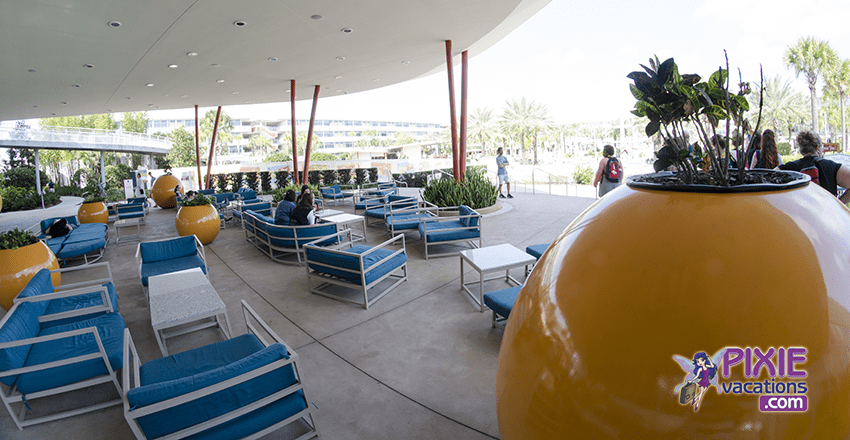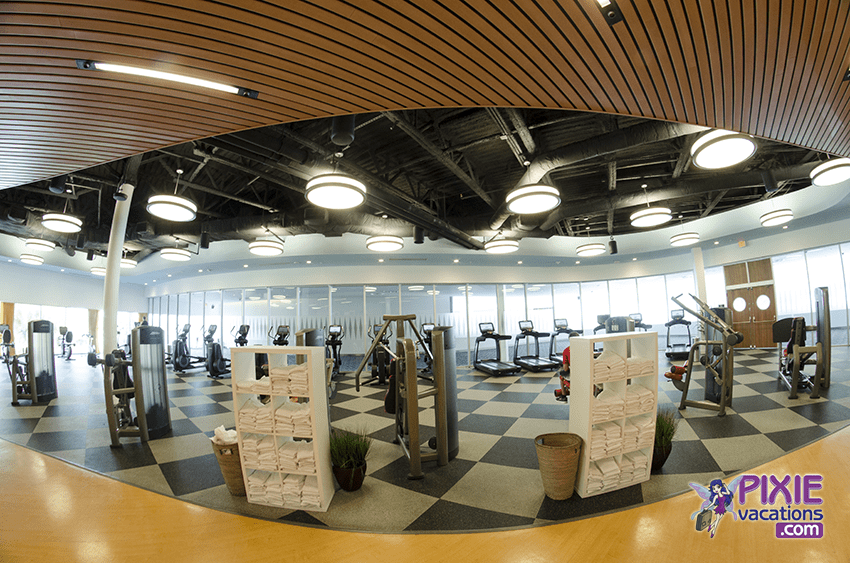 Sapphire Falls
The newest Universal Orlando Resort is stunning!  Sapphire Falls has a magnificent lobby and a grand staircase that is perfect for photos.  We all really love Sapphire Falls.  The decor, the colors, the tropical pool area all made us want to book our next Universal vacation here.  The Sapphire Falls bar, lobby, restaurants, are all very inviting.  The rooms also have a modern feel.  These rooms start at $179 per tax off season as of this podcast.  The water taxi also accesses this resort.  Just like all Universal on property resort their is a fitness center with the latest equipment.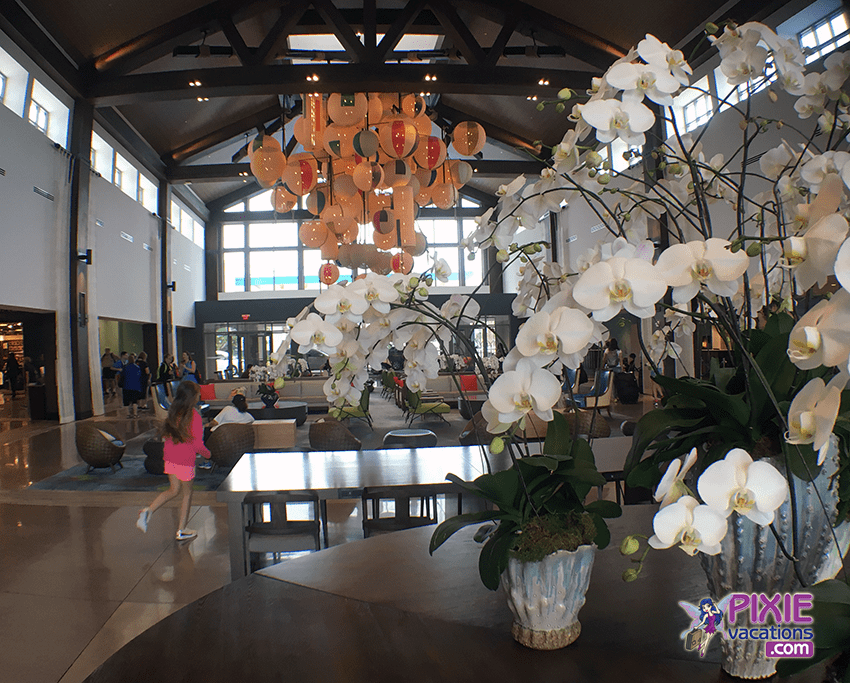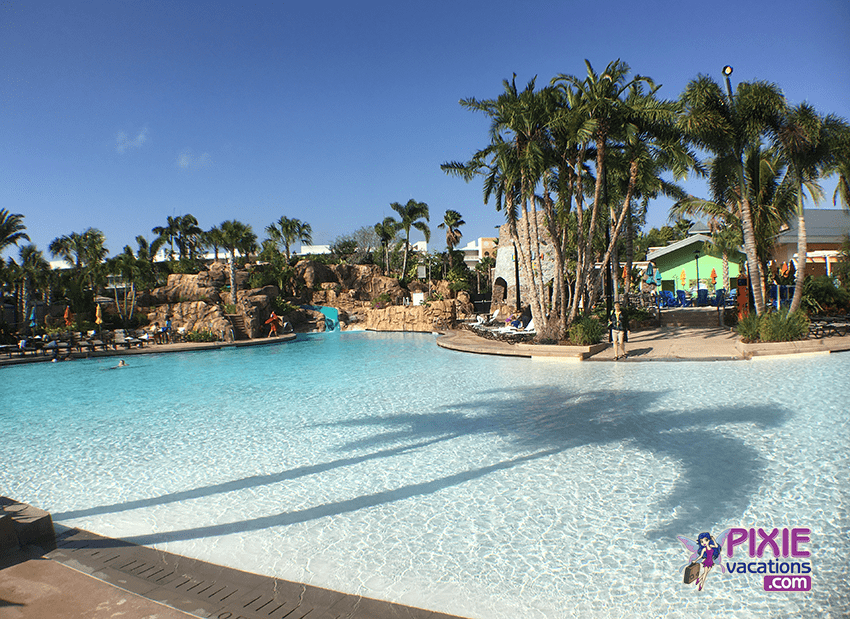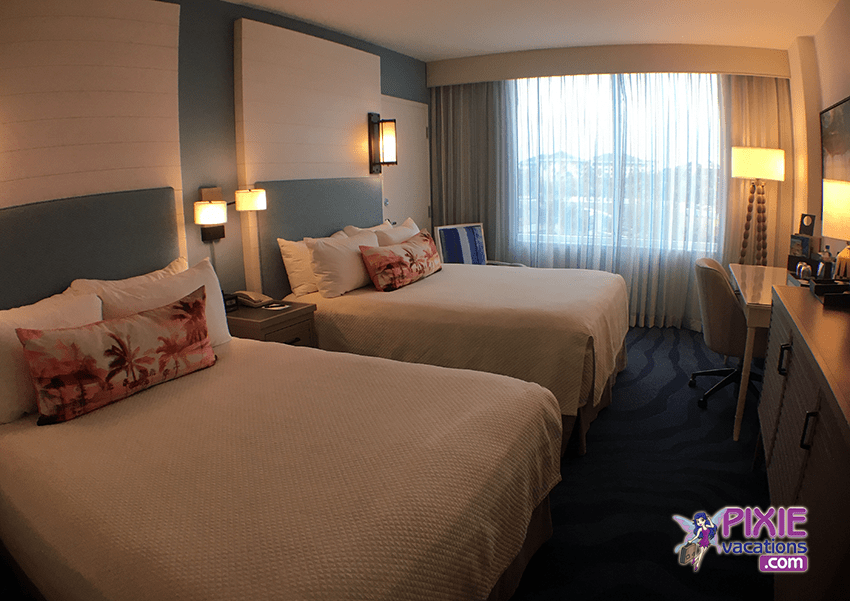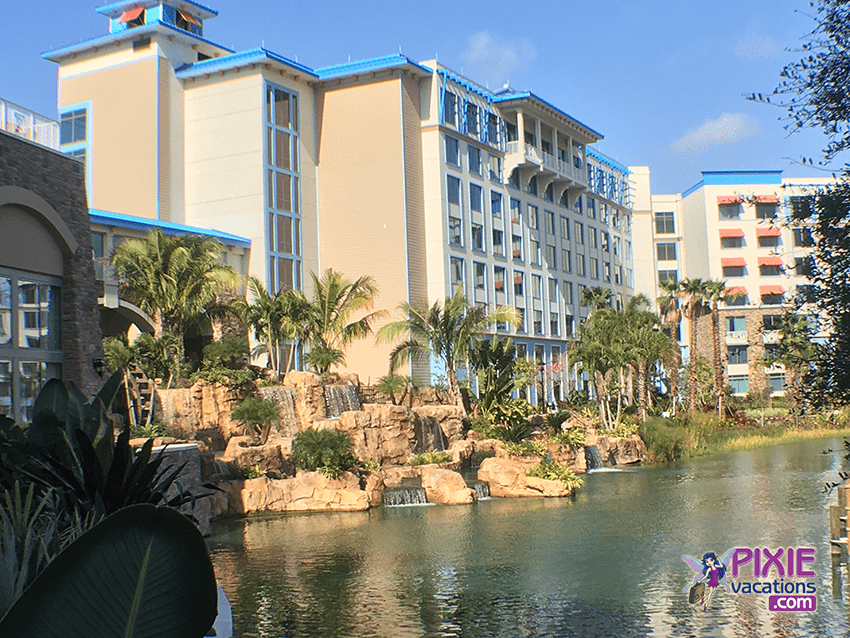 Loews Royal Pacific
For a little bit more than staying at Sapphire Falls you can stay at Loews Royal Pacific.  This hotel is our personal favorite.  Royal Pacific is Hawaii in Orlando and it's so tropical and relaxing.  Royal Pacific even has a Hawaiian Luau on the weekends.
Insider Tip:  When you stay here you get the Unlimited Express Pass to the Universal Studios Parks.  This is a minimum of an $89 per person per day value.  If you stayed just one night at Royal Pacific you get two days of Unlimited Express Pass.
There is a tropical zero entry pool, volleyball court, cabana rentals, poolside bar and grill.  Emeralds has a restraunt here too.
We ate in Island's Dining room for the character breakfast.  The food was great and the characters were so much fun.  Gru and Kevin the minion stopped by our table and so did Homer and Bart Simpson.  You never saw so many adults get excited to see the characters.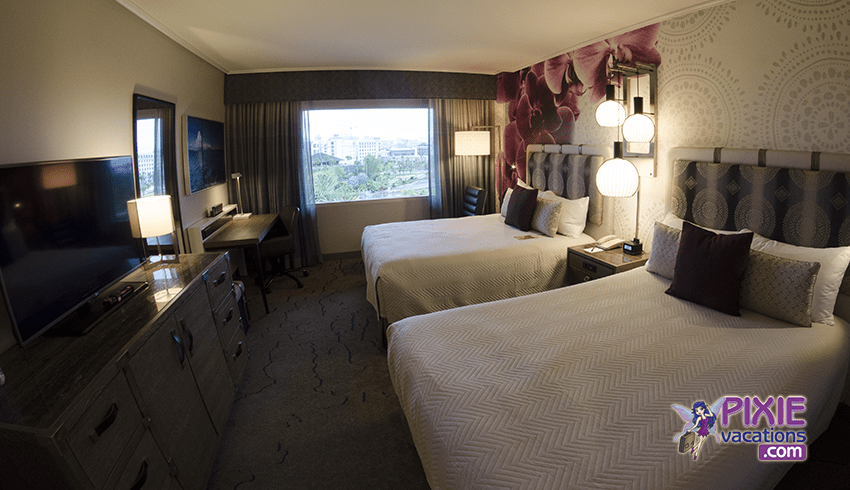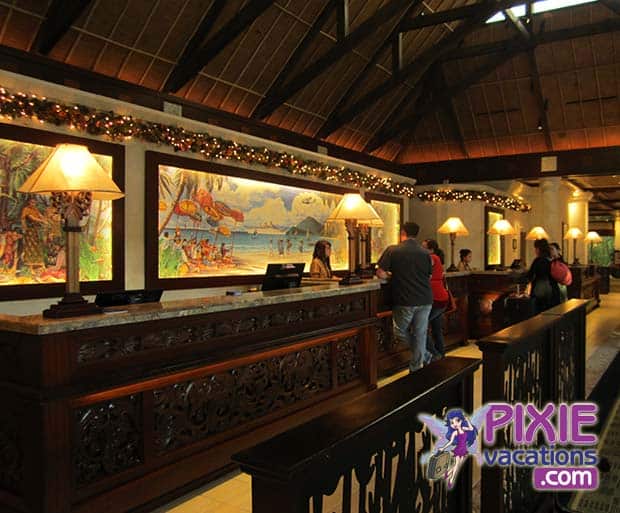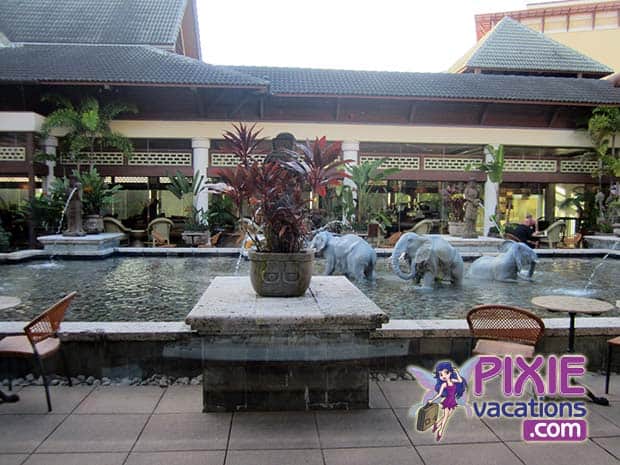 Hard Rock Hotel at Universal Studios Orlando
If you want a hotel with action and non-stop activities you should look into Hard Rock.  This hotel sells out quickly so if you want to stay here you need to book it early.  The rooms are modern, you can check out a guitar from the front desk to practice jamming in your room.  Yes they come with headphones.  There are concerts in the lobby.  Velvet Sessions take place once a month in the lobby and have different groups that you can get tickets to.  Even the pool plays music under the water.  The Palm and the Kitchen are both wonderful places to dine and the resort is covered in rock memorabilia.  The Hard Rock Hotel comes with the Unlimited Express Pass for front of the line access to select rides at both Universal parks.  Also the water taxi stops right out front.  The Hard Rock Hotel is also the closest one to the Universal Parks and you can walk to Universal Studios Florida in about 5 minutes.
All Onsite Universal resorts offer early entry into the Universal Parks for resort guests.  The early entry changes day to day and usually is the Harry Pottery attraction.  This gets you into Harry Potter an hour before regular park guests and this is invaluable.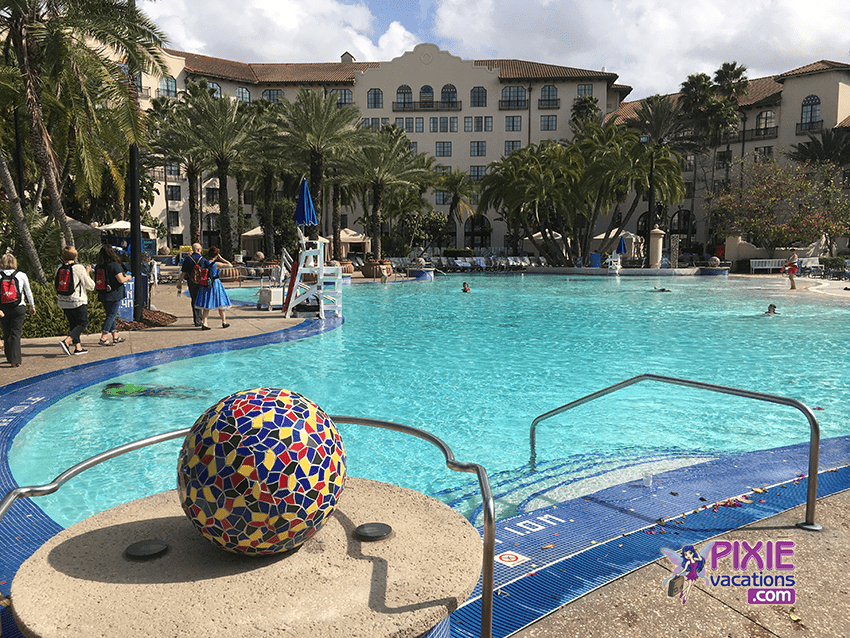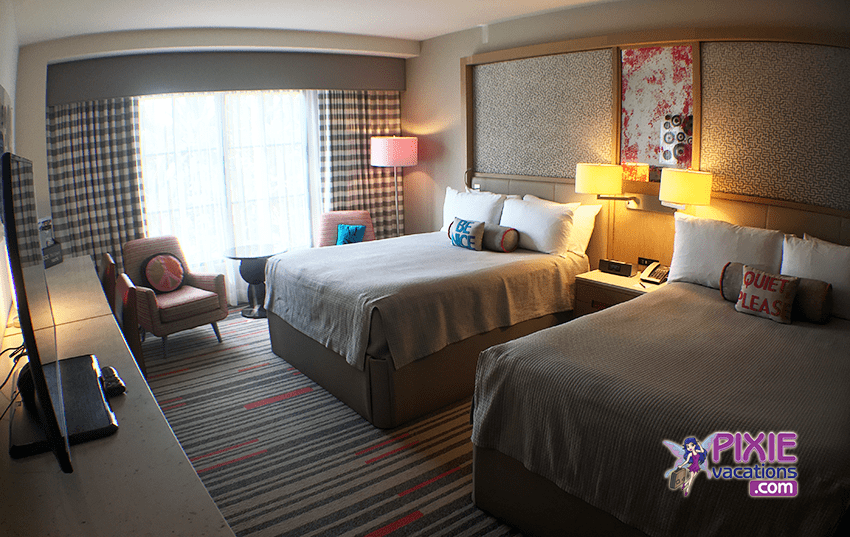 Loews Portofino Bay
Portofino Bay is Universal top luxury resort.  Coming in at four diamonds this resort takes you to Italy without the long flight and passport.  The largest rooms on property with very large bathrooms, and the courtyard takes you back to Italy.  There is a Spa, two large pool areas with themed pools.  If you want to eat outside and stroll thee cobblestone streets you are going to love Portofino Bay.  We had dinner and also breakfast at Portofino Bay.  Dinner at Mama's was excellent and entertaining.  Mama came by our table with two opera singers and they sang a few songs to our group.  The family style Italian eatery is Mama's house and even the dishes are miss matched as she takes them out of her kitchen.  If you are looking for a luxury resort at Universal Studios Orlando, or if you have a group traveling or convention group, this resort is perfect.
Insider Tip:  We can book any of these Universal Studios on property resorts for you.  If you are planning a Universal Orlando vacation, wedding, or event a convention group, please contact us.  There is no charge to book with us and we can go over all the latest vacation packages with you.  You also get our expert advice and help planning our vacation or group event.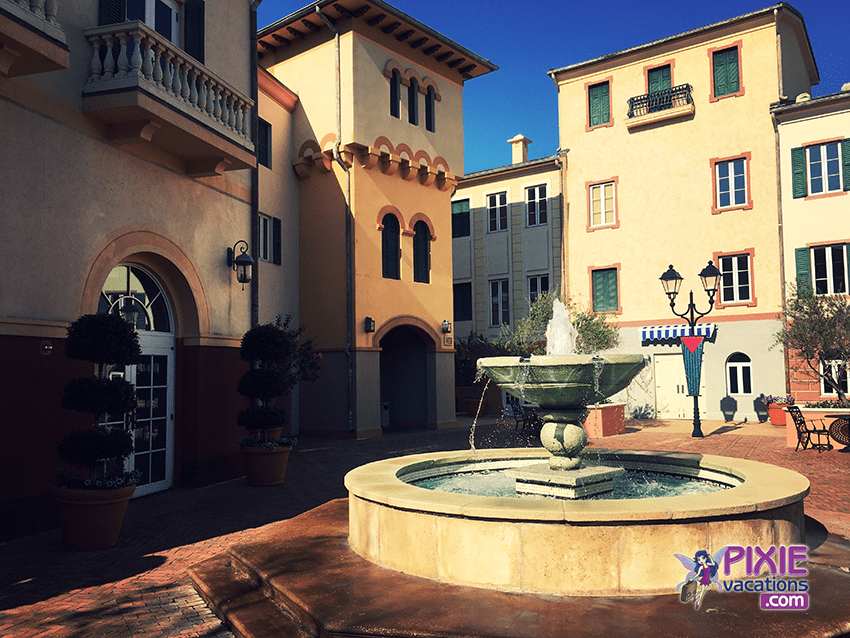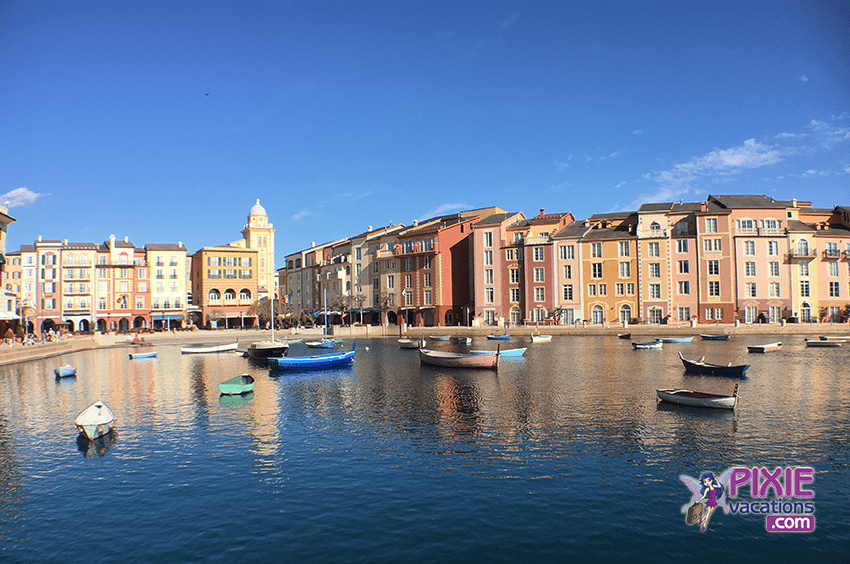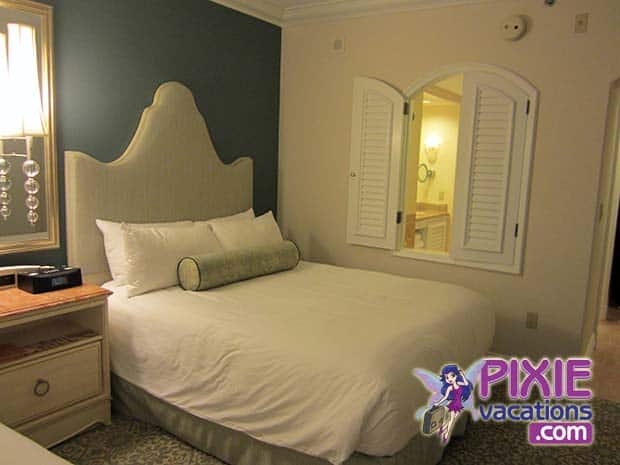 How to book one of these Universal Orlando Resort Hotels:
We can help you pick the right on-site Universal Orlando Hotel for your vacation, convention or group.  There is no extra charge to book with us and we have vacation packages and group rates available.
Please contact us at 678-815-1584
One of our Mouse Chatters here on our podcast can help you with everything.
You can request a quick quote here: Get a Universal Orlando Resort Quote
---
Universal Resort Trip Report
We are back from our stay at Universal's Sapphire Falls Resort and Loews Royal Pacific.  Here is our Universal Resort review and trip report.
---
Join us on Facebook, Twitter, YouTube, and Instagram.
Mouse Chat Facebook
Mouse Chat Instagram
Mouse Chat Twitter
Mouse Chat YouTube
We would love to hear from you. Is there something you want to know about Mouse Chat? Please leave a comment.
Please join us by listening to our show at MouseChat.net or by downloading and subscribing to Mouse Chat on
iTunes. If you subscribe to our Disney Podcast on iTunes you can schedule it to update your player so you will never miss a show.
We also have Mouse Chat Radio if you would like to listen to our Internet Radio station. We stream our current and last three episodes on Mouse Chat Radio.
Have limited Data? You can listen to Mouse Chat at Mouse Chat Radio. You can listen to Mouse Chat Radio on ZenoRadio.
Anyone can listen by calling: (701) 719-2539
Mouse Chat Radio is also broadcasting 24/7 at all of your favorite internet stations (iTunes Radio, TuneIn, etc.)