We were so busy enjoying Disneyland and the California Adventure Park that we just now arrived back home and have a moment to post part one of our three days of adventures at Disneyland.
First I have to say Disney did a top notch job.  We arrived at the LAX airport are were greeted by a Disney cast member at baggage claim.  He had a Lightning McQueen balloon and the big sign he was holding made him hard to miss.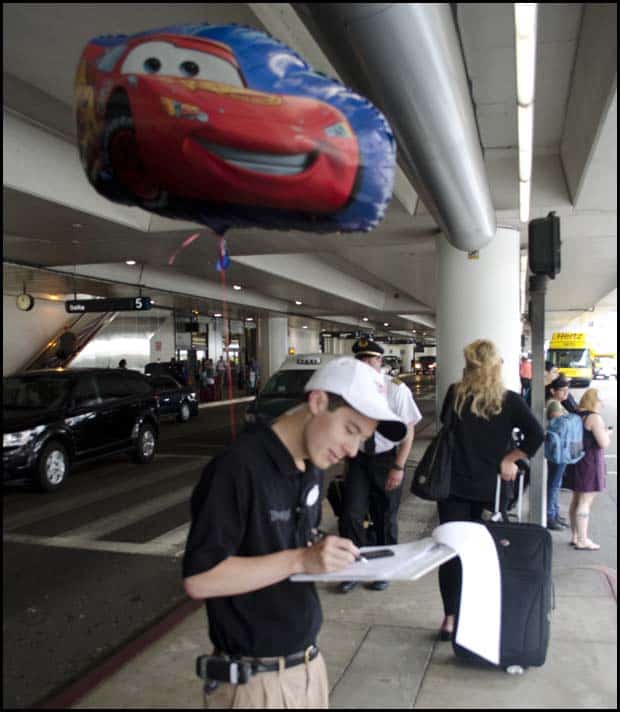 We waited for Lou Mongello from www.wdwradio.com and soon saw Lou walk by to baggage claim with his own hired car.  With all the emails Disney sends out it can get confusing as to if Disney is providing transportation to the media event or if you need to get your own.  So after a quick hello with Lou we headed to the shuttle to get on over to Disneyland.
We stayed at Disney's Grand Californian Resort which deserves a review dedicated just to itself.  To quickly familiarize you with the resort it is similar to Walt Disney Worlds Wilderness Lodge but I would say more upscale like the Grand Floridian.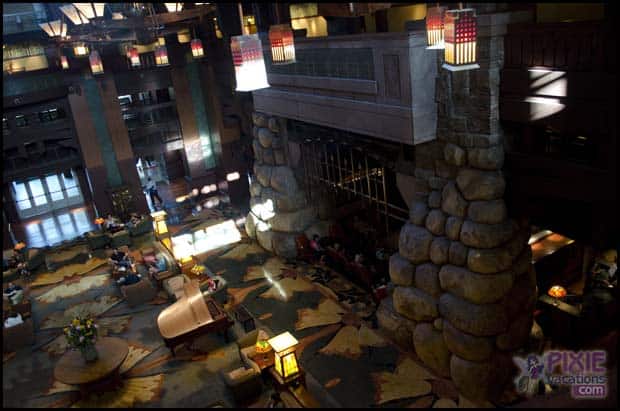 We quickly unpacked and headed to the Disneyland park to get in some rides and attractions before our Inside Track Media Event started at 6 PM.  Last time we were at Disneyland Pirates of the Caribbean was closed for rehab so we were sure to ride that.  If you are only familiar with this ride at Walt Disney World, I have to say the Disneyland version is much better.  The ride is much longer which allows the imagineers to really get you into the story.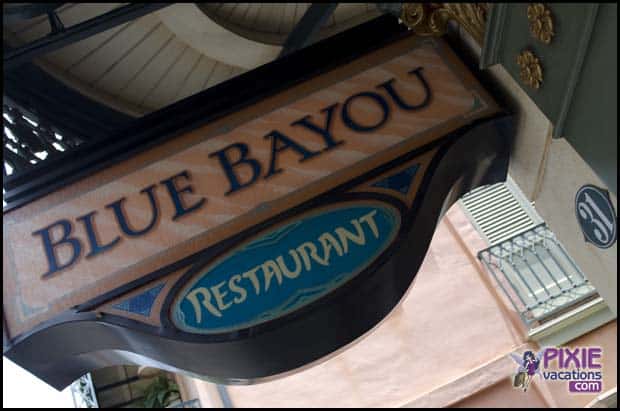 It also cruises by the shores of the Blue Bayou restaurant which is a treat for lunch or dinner.  We did have lunch at the Blue Bayou and only had to wait maybe 5 minutes for a table for Lisa and I.  I had the Monte Crisco Sandwich and Lisa had the roast beef strip loin.  The meal was wonderful.  Well how can you not like a sandwich which is basically a fried doughnut with powdered sugar on it.  The Blue Bayou is not cheap, and the food portions are very large, so we could have easily split just one meal.  But if you are looking for a fun place to sit down, relax, have a wonderful meal and watch the boats go by off the shore with the night time sky and dimly lit lanterns hanging above from the great oak trees, this is a  spot for you.
After lunch we of course hit more Disneyland rides and attractions.
A quick trip back to the Grand Californian Resort and we got ready for dinner and the Disneyland presentations.
The convention center was setup like a TV show " D TV" to be exact and we were the audience.  The host, Anita, was a colorful character and with her quick whit it made for a fun and entertaining show as Disney brought up a parade of imagineers, head  chefs, entertainers, directors, bands, and characters.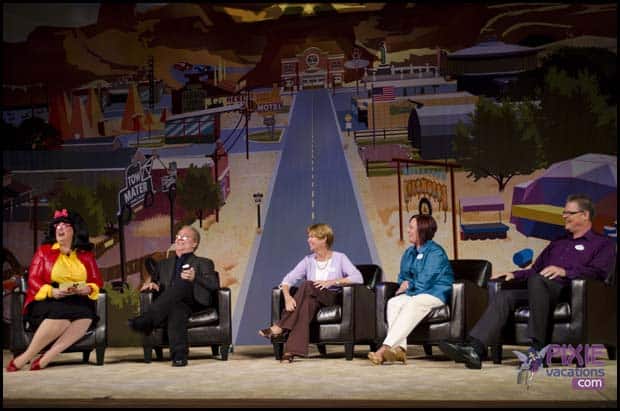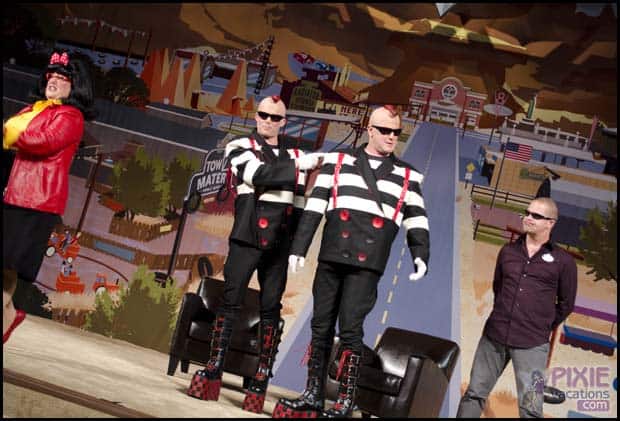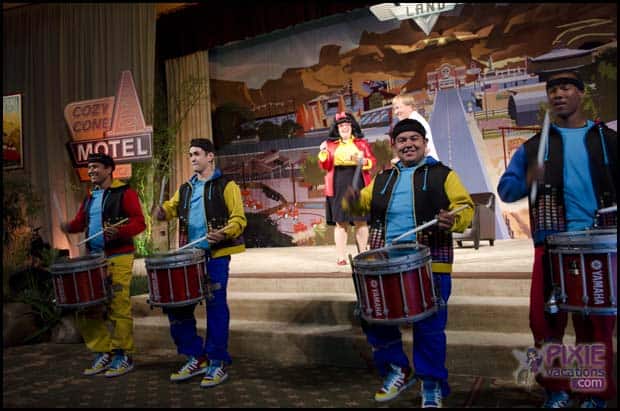 After watching DTV while eating dinner and a quick dessert break, we were all escorted into Disney California Adventure and lead to Cars Land for a private party.  Now if all that food we just had was not enough, the entire Cars Land was filled with tables of food, open bars, and all the restaurants, snacks stands, etc all were open and serving food at no charge.
There was entertainment in the streets, a live band, and the new attractions, and shops were all open until about 11:30 PM.
Cars Land looks amazing, especially at night with all the neon lights and giant rock formations lit up by the moon light.  You truly are in Radiator Springs and completely surrounded.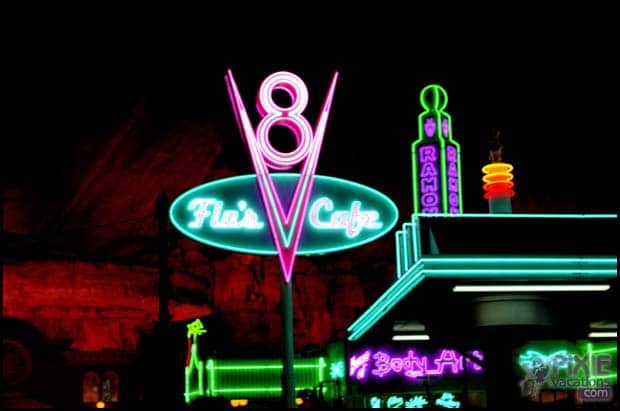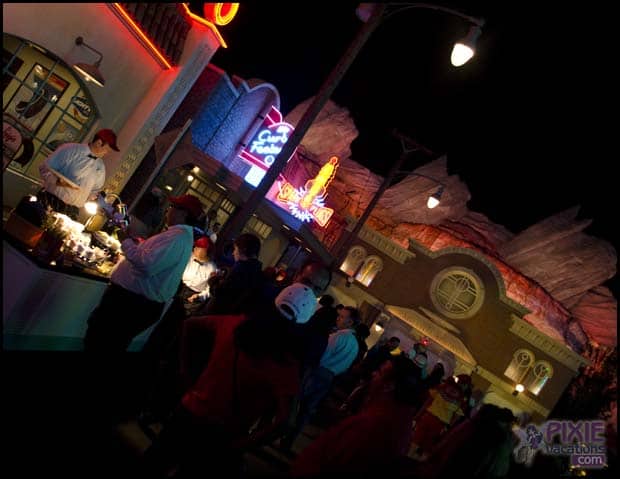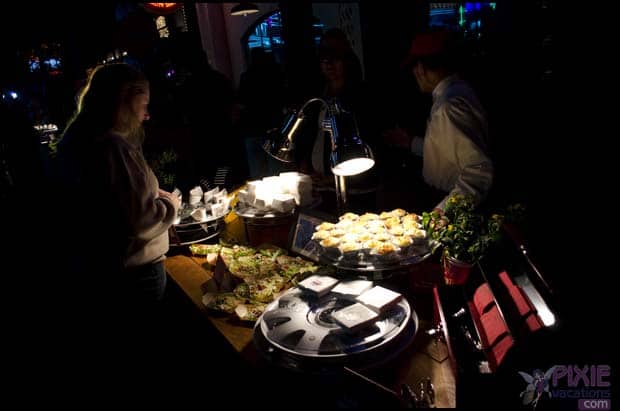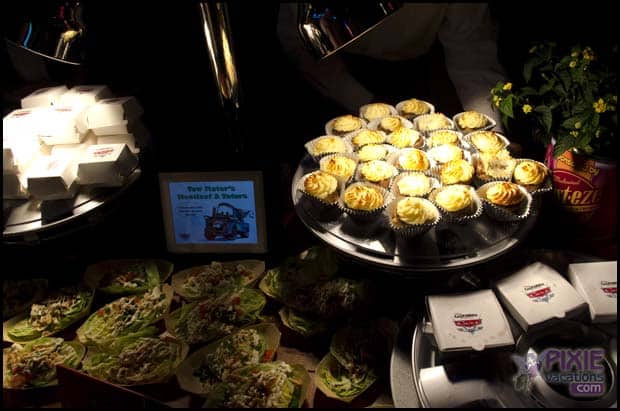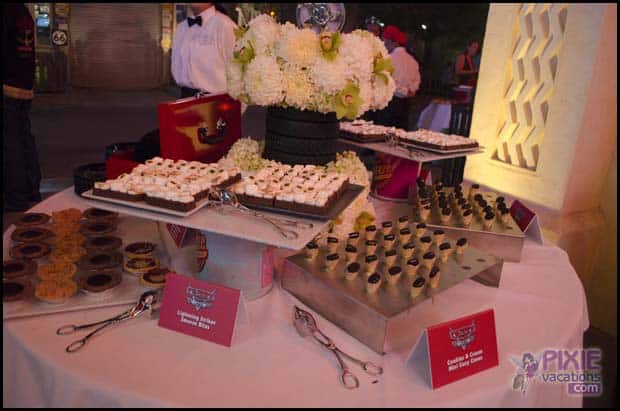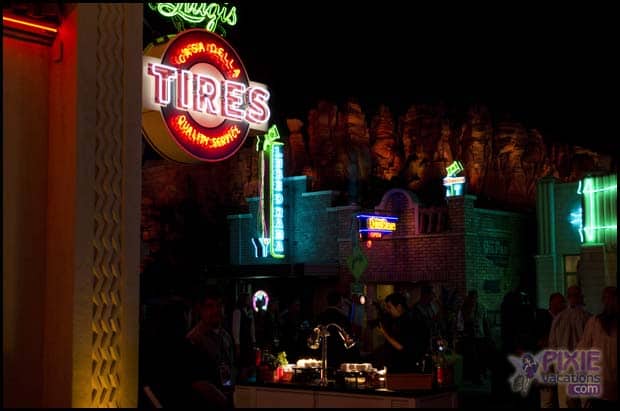 After sampling some of the food on Route 66 at Cars Land, which all was really good and perfectly themed to the event, we headed for Radiator Springs Racers, the E ticket Ride for Cars Land.
Part three coming soon. – Steve
Cars Land Radiator Springs Racers Ride Along VIDEO
Read the Cars Land Review – Part 1